In this post, I am going to cover one of the most-asked questions while building a blog,
What is the best theme for a Blog in 2023? or
Which WordPress theme should I choose in 2023 for creating a Blog?
well, after reading this post, I am sure you will be able to make that choice very easily.
Here is a quick list of my personal favorite 5 Best WordPress themes for a blog in 2023
How to choose the right theme for blog?
Before we can say what theme is best for a blog. Let's first understand what makes a theme good for creating a blog. Here are some points that I think one must check before finalizing any theme for a blog.
If a theme satisfies all these or most of these parameters, then we can say we found the best WordPress theme for the blog.
So here is the detailed analysis of all our shortlisted themes that can help you build your best blogging website.
1- ASTRA theme for blog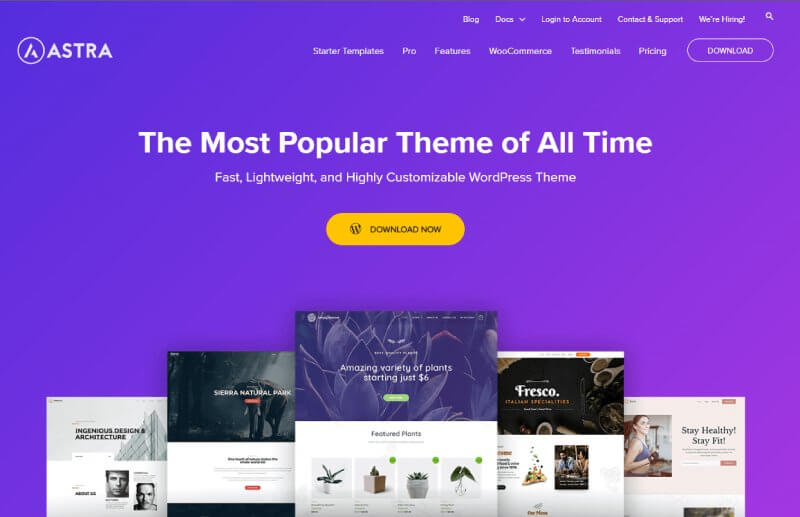 a) Overview
Astra is a popular, fast, and fully customizable WordPress theme, suitable for blogs, businesses, and personal portfolios. It's known for its versatility and ease of use, catering to various types of blogs and content needs.
b) Features
Customization: Astra offers extensive customization options allowing you to modify every aspect of your site.
Pre-built Websites: It provides ready-to-use websites that can be imported easily, saving development time.
SEO Friendly: The theme is built with SEO in mind, ensuring better search engine rankings.
Performance and Speed: It is optimized for speed, providing a seamless user experience.
Integration: Astra integrates seamlessly with popular plugins, enhancing functionality and user experience.
Is ASTRA good for blogging?
Astra is one of the most popular themes in the market today. It's not just lightweight but it also provides a lot of options that make it our top pick for creating a WordPress blog.
It also comes with a free page builder plugin i.e Spectra which can help you build custom layouts for your blog. It also comes with a huge collection of starter templates that one can choose from to quick start their blog.
2- Kadence theme for blog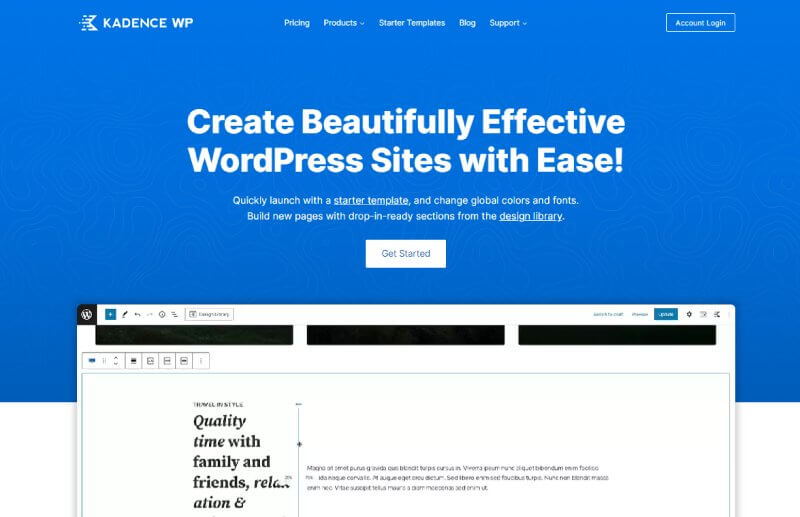 a) Overview
Kadence stands out for its innovative design and functionality, making it a strong contender for various blog types. It's admired for its flexibility and user-friendly interface.
b) Features
Global Font & Color controls: Allows uniformity in design elements, providing a cohesive look to the website.
Header and Footer Builder: Enables unique and customizable headers and footers.
Drag and Drop Page Builder: Simplifies the design process through intuitive drag-and-drop functionality.
Speed and Performance: Optimized for delivering high-speed performance to users.
Is KADENCE good for blogging?
Kadence theme is lightweight and has all the features one could ask to create a blog website. It has its own page builder plugin i.e. "Kadence Blocks". But it lacks good starter templates and UI could confuse a beginner.
3- Blocksy theme for blog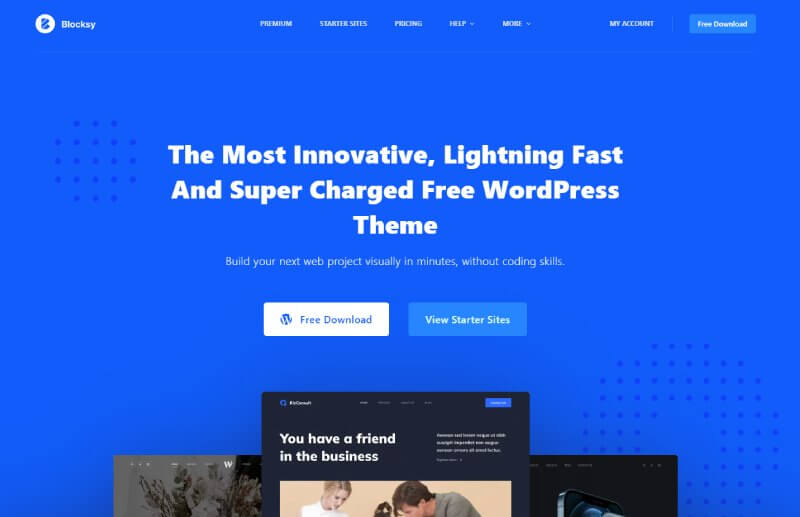 a) Overview
Blocksy is a versatile and innovative theme designed to meet the needs of a diverse array of blogs. It boasts a clean design and offers a myriad of customization options.
b) Features
Customization Options: Offers varied and innovative options for customization.
Header Builder: Allows the creation of distinctive headers.
WooCommerce Integration: Seamlessly integrates with WooCommerce for those looking to incorporate e-commerce.
SEO Optimization: Built-in SEO features ensure optimal performance in search engine rankings.
Is BLOCKSY good for blogging?
Blocksy theme provides a one-stop solution for creating an amazing blog website by just using the free theme. It gives a lot of customization features that you might never need its pro version. Also, they got some great-looking starter templates.
But, Blocksy theme is fairly a new theme and they don't have their own page builder plugin so either you need to install elementor, Spectra or Kadence blocks to create a custom page.
And if I need to use a 3rd party page builder then, I would rather choose the theme from that page builder only, instead of creating chances of conflict between the plugin and the Blocksy theme.
4- Elementor for Blog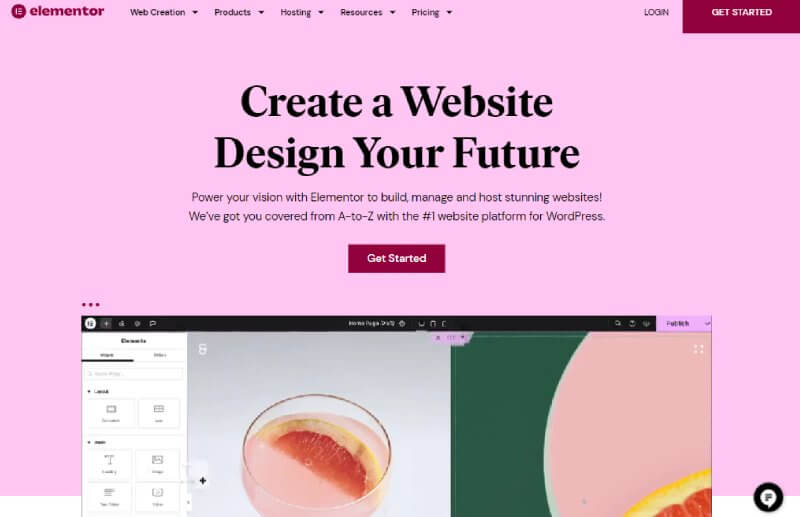 a) Overview
Elementor is renowned for its live drag and drop interface, making it a favorite for those who prioritize design and functionality in their blogs.
b) Features
Drag & Drop Editor: Enables real-time editing and design, providing instant feedback.
Responsive Editing: Offers mobile responsive editing options.
Widgets and Templates: A variety of widgets and templates are available for enhanced functionality.
Popup Builder: Allows creation of engaging popups for user interaction.
Is Elementor good for Blogging?
Elementor is a page builder plugin that works best with its HELLO theme. One can create any type of layout for the blog, design possibilities are endless.
Elementor comes with a good variety of starter templates that one can choose from to quick start their blog.
5- Nexter theme for blog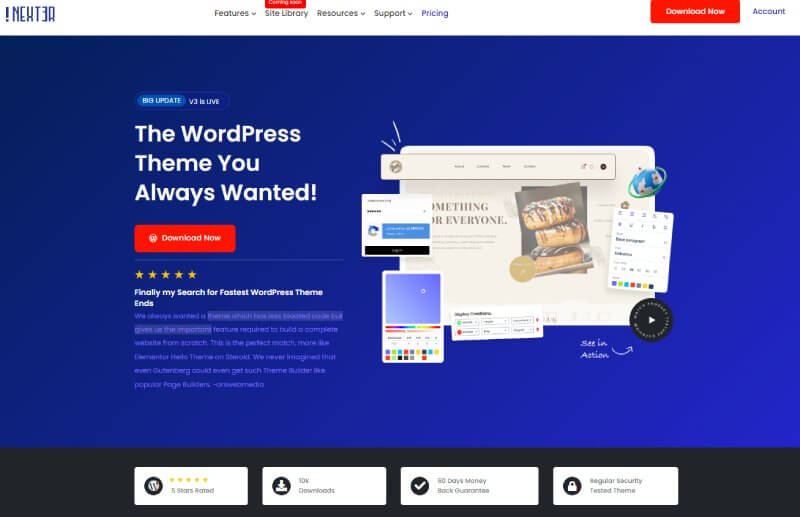 a) Overview
Nexter is a modern theme designed for flexibility and functionality. It's suitable for those who want a balance of aesthetics and features in their blogs.
b) Features
Responsive Design: Adapts seamlessly to various screen sizes and devices.
Custom Widgets: Offers a range of widgets for added functionality.
Color Options: Provides various color options for branding purposes.
SEO Optimization: SEO features are built-in to enhance search engine performance.
Is Nexter good for blogging?
If you wish to have custom design functionality like Elementor in Gutenberg then this is the best option. Nexter is a lightweight theme that comes with its own custom template builder.
They also got a page builder plugin called "The plus addons for Block editor " and with that, you can take your blog design to the next level.
Conclusion
Choosing the right theme is pivotal for the success of your blog. While each of the aforementioned themes has its unique features and benefits, Astra stands out as our top pick due to its unparalleled customization, versatility, and user-friendly interface. It's essential to align your theme choice with your blog's goals, content, and audience needs.
Don't hesitate to try different themes and select the one that resonates best with your vision.