In this post, we are going to cover how you can create a free WordPress test site in 2023 in just a few minutes and how you can get a forever free hosting in 2023 for your WordPress website from TASTEWP.
What is a WordPress test site?
A WordPress test site is a dummy setup or a staging setup that you can use to play around with all the changes, before pushing it to your LIVE WordPress site. There are many cases when you might need a Free WordPress test site or a free WordPress staging host.
Why do You need a WordPress test site?
There are various scenarios when you might need to use a WordPress test site or a WordPress staging site.
1– As a content creator, I create a lot of WordPress sites that I need to showcase in my videos here on my channel – ANKITSHARMATV. For that, I need a test / temporary WordPress setup that I can use and then delete is later on.
2– Maybe you are a WordPress developer and you would like to test some plugins or code. Then you can need a test server where you can get a quick WordPress setup.
3– Maybe you are a school or college student and just want to learn WordPress without spending any money on hosting servers.
How to create a free WordPress test site?
There are two ways to create a free WordPress test site:
1- Using local server software like XAMPP and WAMP
2- Using online tools like TASTEWP.
When it comes to creating a FREE WordPress test site, XAMPP or WAMP are one of the most popular choices in the developer community. But there is one major problem with this.
by using these local servers, you won't be able to showcase your WordPress site on LIVE internet. It's only good for local computer use only.
That is the point where online Free WordPress test site tools like TASTEWP can be a very handy choice. You will not just be able to create a free WordPress staging site, with this you can also share a LIVE link to your WordPress setup and I think this is the best part of this tool.
How to use TASTEWP to create a Free WordPress test site?
Let's see how we can create a free staging WordPress site in 2023 LIVE on the internet :
Step-1: Create your account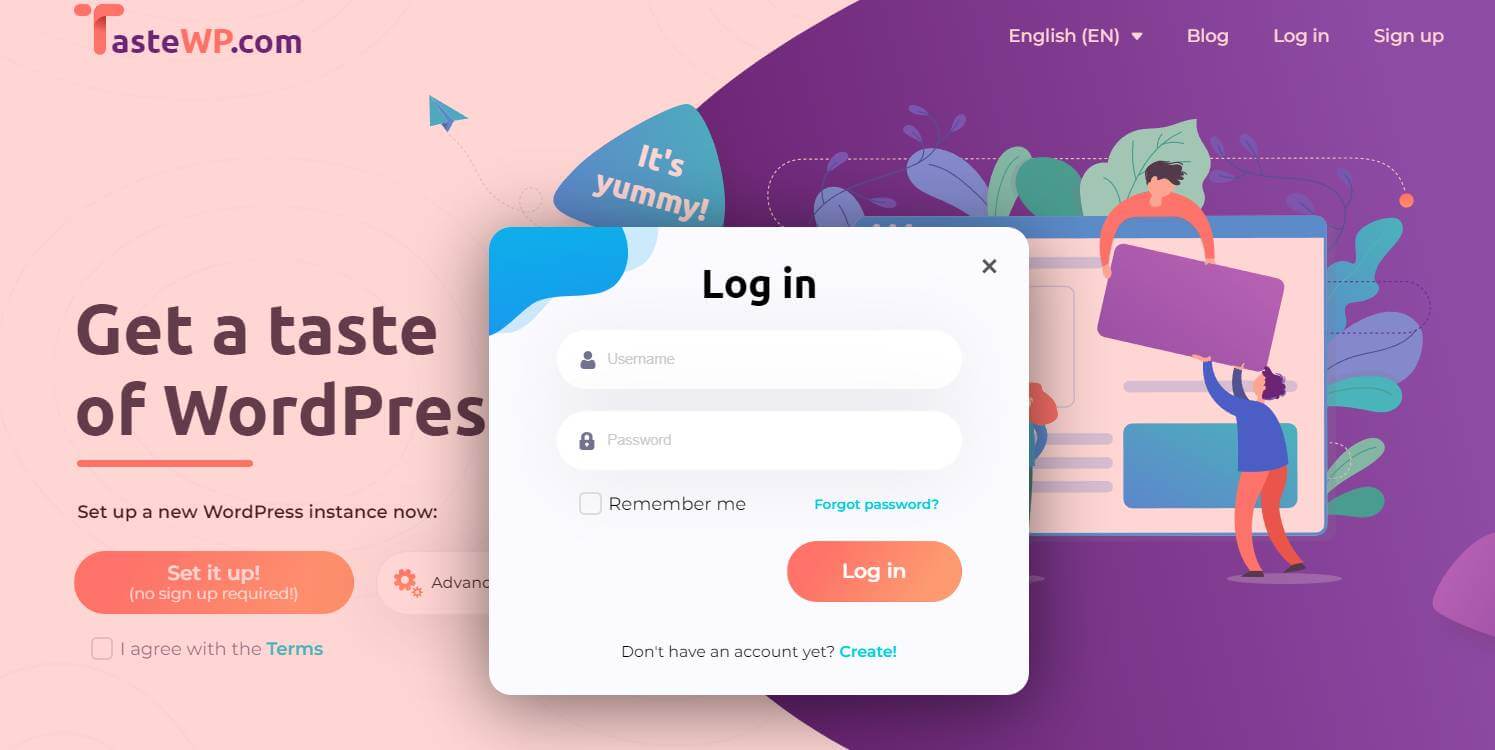 Visit TASTEWP and create a free account. for non-registered users the test site gets deleted after 48 hrs. But for the registered users this free WordPress test site will be LIVE for 7 days.
Step-2: Launch your free test site

Click on "create new site"
Step-3: Configure your test site.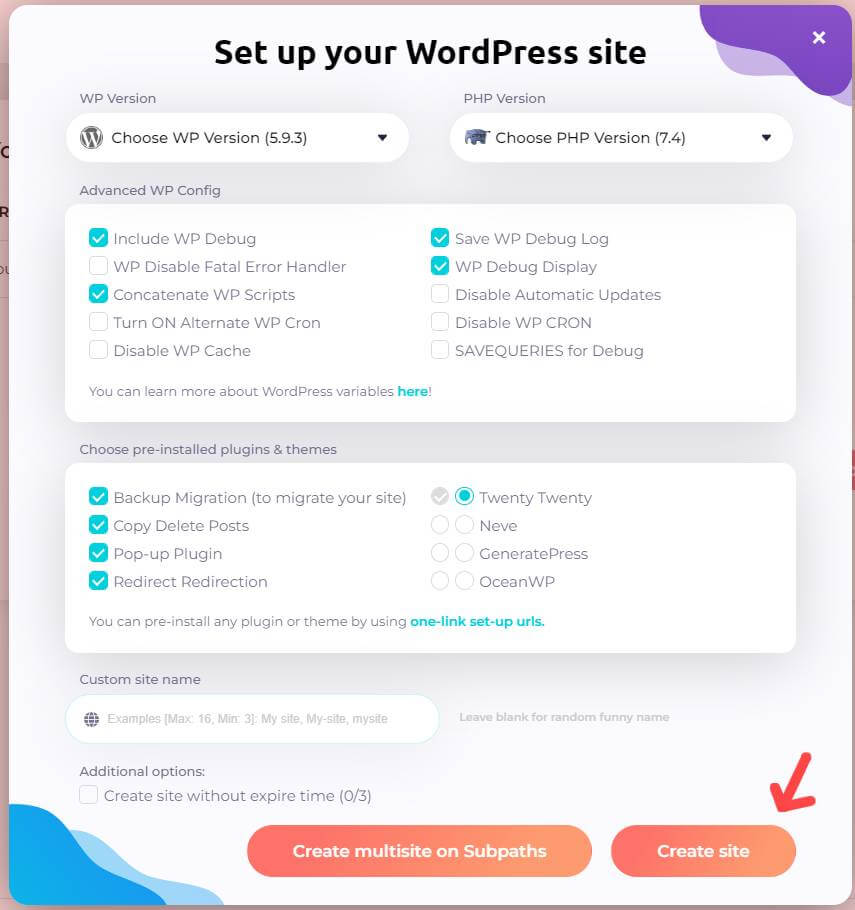 Configure your WordPress setup with all the plugins and features your want and then you can also give it a name or leave it blank. Then click on "Create site".
Step-4: Access your free WordPress test site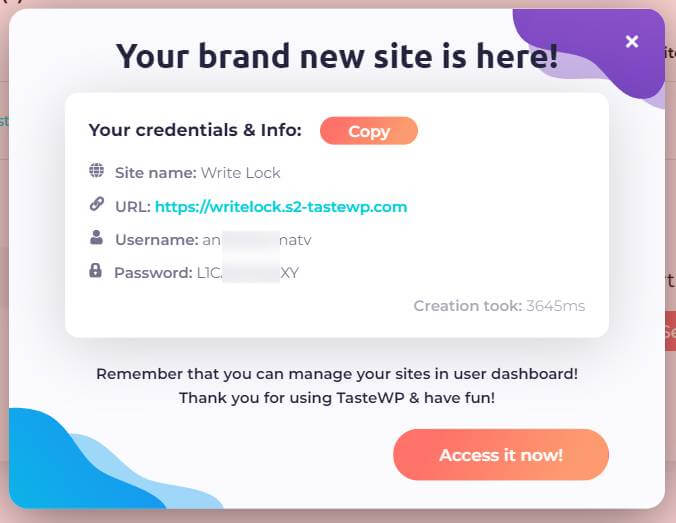 It will take a few seconds to create the setup and then you can access the WordPress backend using the username and password or by directly using the button at the bottom "Access it now"
Step-5: Managing your test WordPress website

Once the Free WordPress test site is ready, you can visit all your sites in your dashboard to manage then all at one place. You can create 4 active sites at one time.
How to get free WordPress hosting?
One the best features of TASTEWP is that you can also convert these temporary test WordPress site into a never expiring WordPress hosting. So technically you will get lifetime free hosting for your WordPress website.
In order to get your free never expiring WordPress hosting, all you need to do is get your referral link "Affiliate program" from your account and share it with other people in your community and with every 3 successful referral, you will get a free never-expiring hosting for your WordPress site.
Conclusion
So, no matter if you are a content creator, WordPress designer or developer or just a student who wish to learn WordPress on a LIVE setup then TASTEWP is one of the best solutions to go with.
Some common questions answered:
Can you install WordPress without a domain name?
Yes, Using the WordPress test site we can create a full WordPress website without any domain to be booked.
Can you practice WordPress without a domain?
Yes, It's easy to create a WordPress environment LIVE without any domain name. You can use tools like those mentioned here to create a FREE WordPress setup.
Can you use WordPress for free?
Yes, You can use WordPress for free with a WordPress test website server online. Even you can get a lifetime of free WordPress hosting if you follow the above-mentioned steps.
Can you use WordPress without a host?
Yes, You can use WordPress without buying a plan from a hosting company. But you need to have a host to run WordPress code. You can use Free hosts as well to install a Free WordPress site as explained here in this post.